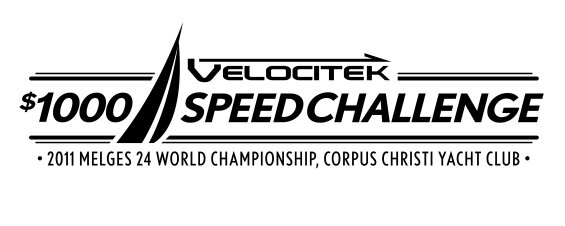 OFFICIAL RULES
The prize for top speed achieved at this event is one thousand US dollars and will be presented at the final Awards Ceremony of the 2011 Melges 24 World Championship to be held at the OMNI Marina Hotel, Saturday, May 21st.
The Competition will take place at the 2011 Melges 24 World Championship on Friday, May 20th.
Participants must register for the Velocitek $1000 speed challenge in order to be eligible for the competition. Registration will take place on May 20, 2011 between 8:00 AM and 10:00 AM on the lanai of the Corpus Christi Yacht Club.
Top speeds must be recorded between 10:00 AM and 4:00 PM on the day of the event.
Competitors' top speeds must be presented to the Speed Challenge Race official before 5:00 PM CDT.
Competitors must be sailing out of the 2011 Melges 24 World Championship venue.
Competitors must use Melges 24 Class equipment and be powered by wind only.
Top speed is defined by the boat with the highest 10 second average speed (in the event of a tie, the tie will be broken by the boat with the highest instantaneous recorded speed)
Participating boats can use any Velocitek device to record their speed (for those without a Velocitek device, a limited number of demo units can be reserved on a first come first served basis at the time of registration).
Top speeds will be initially checked by reviewing the Velocitek device top speed recall. For the top three competitors Velocitek device data will be downloaded to a PC in order for a Velocitek engineer to verify the results.